Do you have an idea of an ideal rig or power rack and we do not have such an option on our website? This is completely normal – thanks to the modularity of the individual parts, it is possible to put together thousands of options. If you are interested in a tailor-made set, just contact us. For a better idea and clarification of communication, we present a list of basic components that you can use in assemblies.

M-SERIES - Crossmembers and bars:

Proven and functional classic. The SLIM bar is a standard straight crossbar with a diameter of 32 mm. Its total length is 106 cm and can be attached to both crossmembers and uprights of the rack (rig). If necessary, the crossbar can be customized.

Stylish and modern stabilizing element. At the top there is a multifunctional crossmember for adding accessories. The back plate with the logo is deliberately offset backwards so that you have maximum space during exercise. The length of the PLATE crossmemberis 106 cm. It includes a screwed plate with a logo, thanks to which it is possible to achieve hundreds of color combinations.

The upper crossmember for racks, which, thanks to the top alignment, provides maximum space for exercise inside the structure and a pleasant modern look. Like all our crossmembers, this one also has perforations on all 4 sides.
Available partition lengths: XS (43cm), S (61cm), M (79cm), L (106cm), XL (133cm)

Basic crossmember with holes on all 4 sides of the profile along the entire length. It is most often used in the lower part of the racks, but of course, if it suits the design, it can also be used in the upper part.
Available partition lengths: XS (43cm), S (61cm), M (79cm), L (106cm), XL (133cm)

A premium pull-up bar that attaches to the top crossmembers and offers several grip options – wide (bent), classic, parallel, and angled. In addition, it also contributes to the stability of the rack. The diameter of the pull-up bar is 32mm and the total length is 106cm.

An alternative type of bar if you want to strengthen your grip. The diameter of the bar is 48 mm and the total length is 106 cm.

It is usually used as a crossbar to connect racks or other rigs. The advantage is its length – 187 cm. Sufficient load-bearing capacity, strength and stability are ensured by solid profiles with a logo at both ends of the crossbar.

As the name implies, stabilizing feet are used to improve the stability of the rack. They are most useful for small racks and if anchoring to the floor is not possible.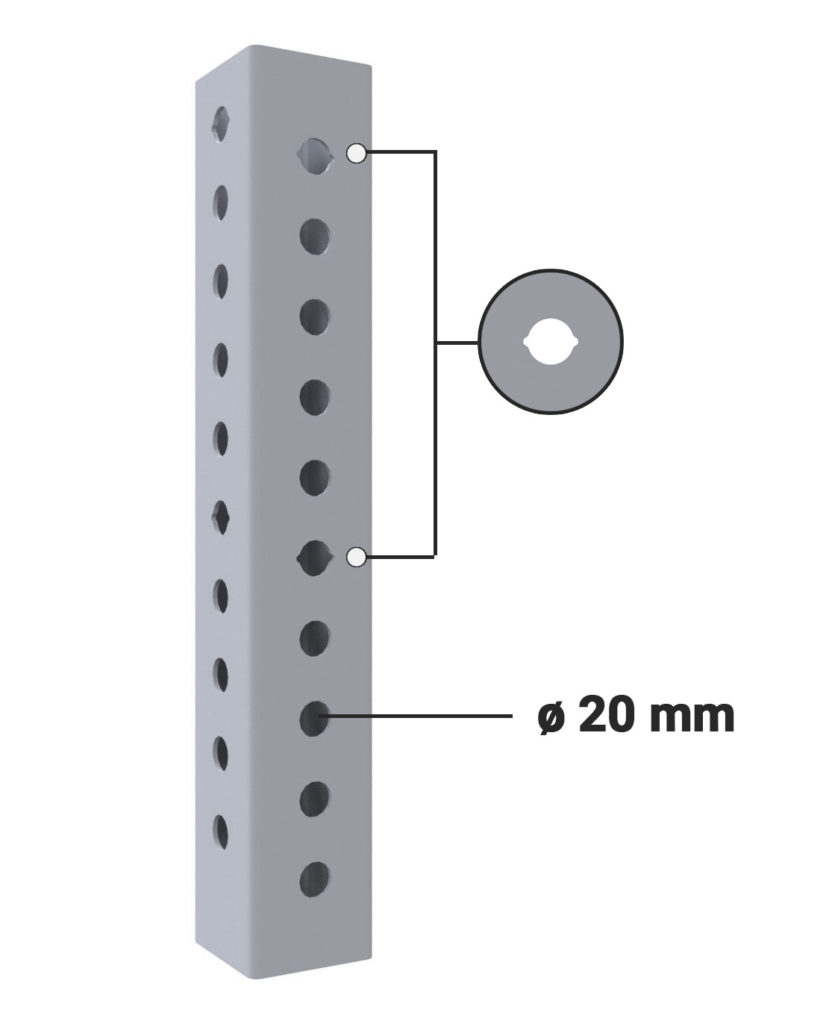 Every 5th hole is marked with a laser cut symbol called "lemon" for easier orientation when using accessories. This applies to all uprights – with or without numbers.
Uprights and crossmembers of the M-series are made of 80x80x3 steel profiles. The diameter of the holes on the stand is adapted for connecting material M20 and accessories with a pin diameter of 20 mm.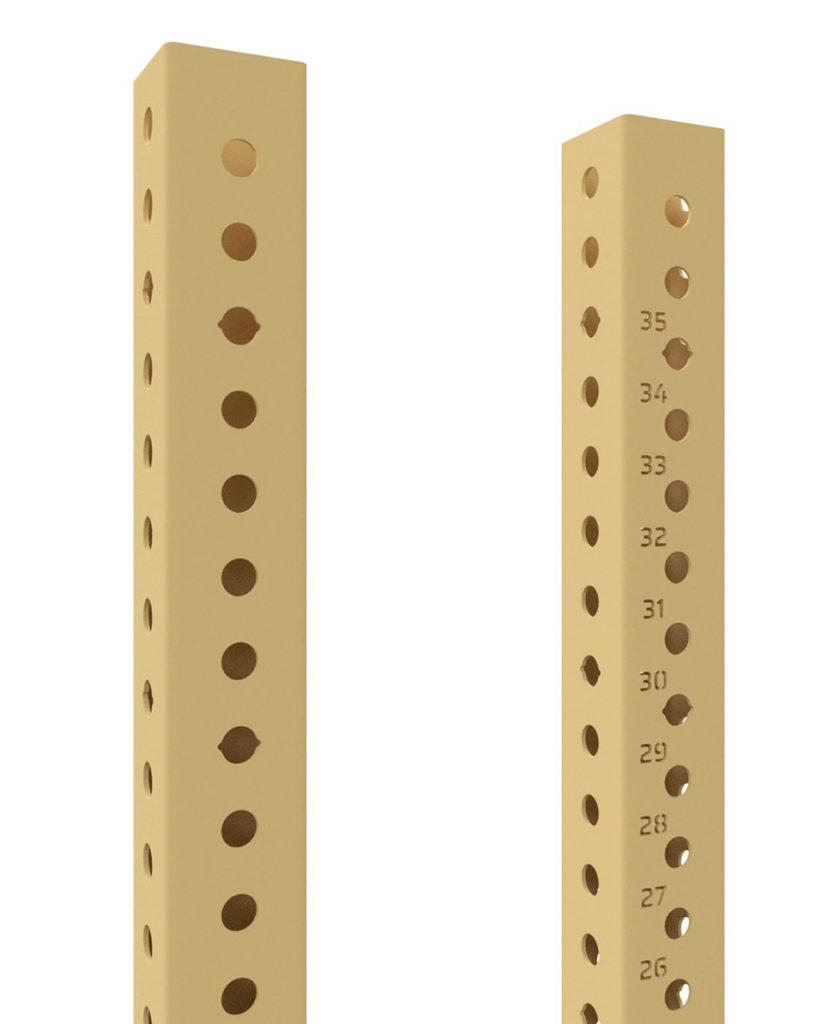 All available uprights can also be made numbered. There are a total of 35 numbers – they start at a distance of 28 cm from the ground and end at a height of 181 cm. The numbers are cut by a laser, making them look very professional.
Commonly available heights: